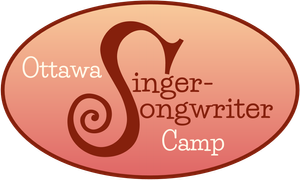 Come write songs with Megan Jerome, Elise Letourneau, Lynn Miles, Shelley Posen, Al Tambay, and Ian Tamblyn this summer!
OTTAWA SINGER-SONGWRITER CAMP 2019 
July 15-19 CREATE 
July 22-26 COLLABORATE 
Sign up for one week or both! 
Directed by Elise Letourneau and Megan Jerome 
With guest instructors Lynn Miles, Shelley Posen, Al Tambay, and Ian Tamblyn at Alcorn Music Studios and GigSpace 
Give voice to the songs that are already inside of you, in a positive environment, with like-minded creative spirits. Revel in the luxury of a quiet songwriting space, just for you and your ideas. Enjoy daily opportunities to perform and receive valuable feedback on your singing and playing, lyric and music writing, and stage presence. 
Your songwriting sherpas will guide you through the landscape that all performer-songwriters need to navigate, including finding your muse, pulling a song together, and performing it effectively. Through hands-on creative activity and lively brainstorming sessions, you'll gain useful insights into establishing and sustaining your songwriting routine. 
In CREATE (with Megan, Elise, Lynn, and Ian), you will befriend your artistic self and learn to nurture your inspiration's wellspring. You'll finish the week with at least one brand new song, and the chance to perform it after plenty of coaching and encouragement from seasoned performer-songwriters, who will help you identify and draw upon your strengths. Whether you are working on your first song or you are a pre-professional singer-songwriter, your creative spark will ignite in this supportive environment. 
In COLLABORATE (with Elise, Megan, Al, and Shelley), working in duos with another participant (or sign up with a friend!) you'll perform a 3-song showcase set. Throughout the week you'll rehearse together on an original song you each bring to share, and you'll write a new song together as a songwriting team. You'll learn more about chords, song forms and arranging, and accompanying yourself on your instrument and joining in with others. And you'll get lots of immediate feedback and tips from our instructors to guide you forward in your songwriting practice.
Details and registration information may be found at http://www.alcornmusicstudios.com/ottawa-singer-songwriter-camp/